GOOD EDUCATION IS ALWAYS AN ASSET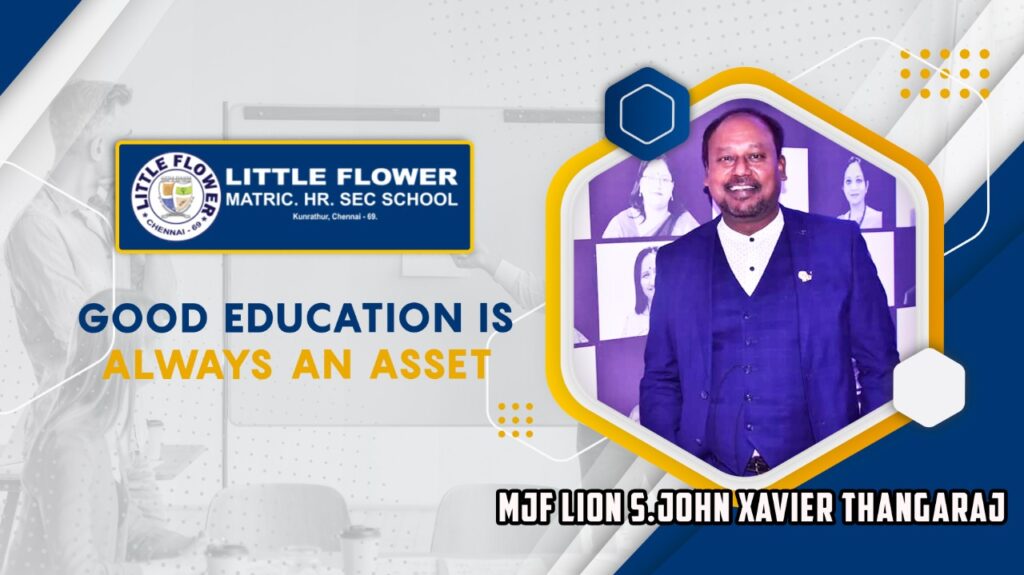 Little Flower MHSS (Education)
Many have raved about Sir Kalam's Vision 2020 but very few have actually taken measures to do something about it. One such man is S. JOHN XAVIER THANGARAJ, the well-wisher of Dr. Abdul Kalam and the founder of Little Flower MHSS, a school for underprivileged children. His vision towards educating the future generation is nothing less than revolutionary.
Though an advocate by graduation, Mr. John considers himself a thorough educationalist. Hailing from Salem and later migrating to Chennai, his family has tried their hand in many businesses including printing, mushroom cultivation, and finance. Though every other attempt ended in vain, they keenly focused on giving good education to children.
With minimal investment, they started a tuition centre for students in 1992. They could host a total of 300 pupils in the beginning majority of who came out as rank holders in State level examinations from Kundrathur district. This pushed them into opening a school that could meet the need for quality education. Little Flowers was thus started in 1994 and in its first year it went on to become the second private primary school in Kancheepuram district.
But his vision did not stop here. He realized that an area like Kundrathur had a very low literacy rate. He, thus, started educating the inhabitants also. They have successfully done a lot of Parent Empowerment programs since.
A strong well-wisher and friend of Dr. Kalam, he insists on the need for practical education over theoretical and has implemented this idea into different workshops for students as per age groups. For eg, "Commerce Café", for Commerce students includes logo design and art of product selling. His long-time vision is to improve the education sector includes a no-detention policy, higher education revamp system, Integration of teacher training with the college students, NEET coachings, semester system for 9th to 12th-grade students, and Inclusion of vocational studies to name a few. Men like him with a strong vision are who we need to bring about the much-needed educational revolution.