Pottery wore as a Fashion Accessory! -Terracotta Jewellery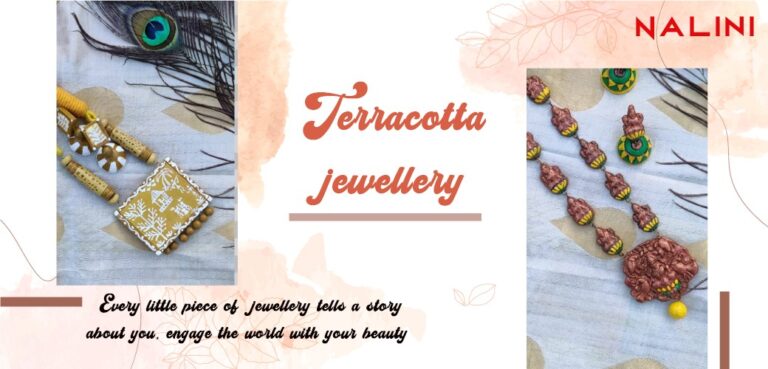 "Jewellery is like a biography which tells a story of its life"
Jewellery has always been a fine companion for women throughout their life. It has expressed their beauty defining it even more beautiful. However, jewellery styles and models keep changing according to the trend. And currently, there is a new trend in jewellery rolling in the fashion world which is the 'Terracotta Jewellery'.
Terracotta pronounced from the Latin word terra cocta means baked earth made from natural clay, giving it a reddish-brown colour. Terracotta jewellery is one of the oldest forms of jewellery crafted in India since the Harrapan civilization. Terracotta jewellery's style and shape are inspired by nature, animal, tribal gods, plant leaves and flowers. Since terracotta jewellery is crafted from natural earthen clay it is skin-friendly and eco-friendly.
How is Terracotta jewellery made?
Terracotta jewellery is simply made within four steps:
Squeezing and Moulding: Firstly to make the jewellery, the designers will squeeze the potters' clay. This clay will be stored in an airtight container to prevent it from hardening. There is no need for water to be added to the clay. Terracotta clay will be ready within 2-3 days. Then the designer would mould the clay in different shapes, sizes and designs according to their creativity.
2. Drying: Secondly they will dry the moulded clay. And there are two ways to dry the clay i.e. sun drying and air drying.
3. Baking: Thirdly they will bake the moulded shape so that it can be hard to avoid breaking.
4. Painting: Lastly the terracotta jewellery will be ready for painting. A variety of paint pigments are used to colour terracotta jewellery like pearl and metallic paints but mostly acrylic and oil colour paints are used for getting the shine and they also use varnish to finish up the piece.
"Never think failure is an opposite word of success, instead take it as a part of success"
This quote defines the life of Nalini. She is the founder of Nal's Creation, a unique business platform that showcases the art of Terracotta Jewellery such as Earrings and Necklaces which is displayed as an individual product or both combined. She started her business during the COVID-19 pandemic and ran it for a year in Chennai.
Besides her love for her business, Nalini was working as a professor. She got inspired by her students who were doing this terracotta jewellery. Nalini took this idea and planned to start a business on this by learning its methods on YouTube. This Covid pandemic has affected us directly or indirectly but for Nalini, it has affected her very badly by losing her job and by becoming financially unstable. Due to this COVID – 19 pandemic, Nalini was facing a lot of issues such as an unstable financial situation, work from home and not go out, business, which was running awful and tedious. To make herself stable Nalini took the failure to succeed and continued doing the business with a small investment.
"I don't have any family support; I am doing this business on my own. And I couldn't be a financially independent person. To overcome this I need a job and a salary and for that, I need to start a business and that's how it leads to Nal's creation" she says.
There is no target audience here. Her family members support and the reviews they share with their neighbours and friends are what have gained her a few customers. Nalini has started up an Instagram page recently and through this, she had acquired a handful of customers where she sold out her products. Few of her customers have given a positive response and have also encouraged her to keep on growing.
"If anyone gets a chance to become a successful person they will try to become one and that's the Nalini's Mantra"
She uses only natural clay and she gets the clay from the shop, heats the clay for taking the air bubbles and makes the design accordingly. It is then dried for 2-3 days till the clay is settled. Then she uses the cooker and saw dustpan baking method where the jewellery will be placed on the pan and it starts heating in low flame gas accordingly. After baking it, she takes out the jewellery and cleans it off to remove the dust. Then she adds the last method, where she paints it with different colour paints which are high in quality and that is branded such as Artists' Acrylic Colours. Nalini would combine the colours accordingly to bring out the best combination in her perspective.
"Nalini states that this type of terracotta jewellery has been sold out in Flipkart and Amazon for a high price but Nalini sells it for lesser or at a decent price accordingly."
Nal's creation has faced a lot of challenges but now Nalini knows how to overcome that. Terracotta jewellery is a natural product that is skin-friendly and it does not have an expiry date. Nalini truly is the master of her craft, so get ready to receive something mesmerizing from her. She also gets bonus points because she is always ready to make as many changes as you want until you get your dream jewellery.
Tribal Terracotta Jewel Set
Goddess Terracotta Jewel Set