Vidhayin Siragugal Social Welfare Association
APJ. MD. JohnJoel/D. Johnson
When we talk about humanity, there can be various perspectives to look at it. The most straightforward way to understand humanity is this simple definition – everything that makes you human can be considered a part of humanity. This can be love, hope, faith, fear, and much more. All these attributes are a part of humanity because you experience them regularly while living your life.
The Pride of Humanity awards 2021 initiated by Take Care International Foundation are being held in the hope to recognize outstanding humanitarian services and positive actions by individuals. The Pride of Humanity award recognizes the world's most influential and accomplished humanitarian workers from all walks of life.
John, with thoughts full of serving the needy, started "Ezhuchi Deepangal" in 2014 with four volunteers. In 2015, they changed their organization's name to "Vidhayin Siragugal", in which they followed the ideologies of former President APJ Abdul Kalam. "Vidhayin Siragugal Social Welfare Association was formed to provide social service to the poor and the needy. Established in the year 2015 with government approval and specializing in social services for poor children, abandoned elderly people, for the development of backward villages by service-minded youths.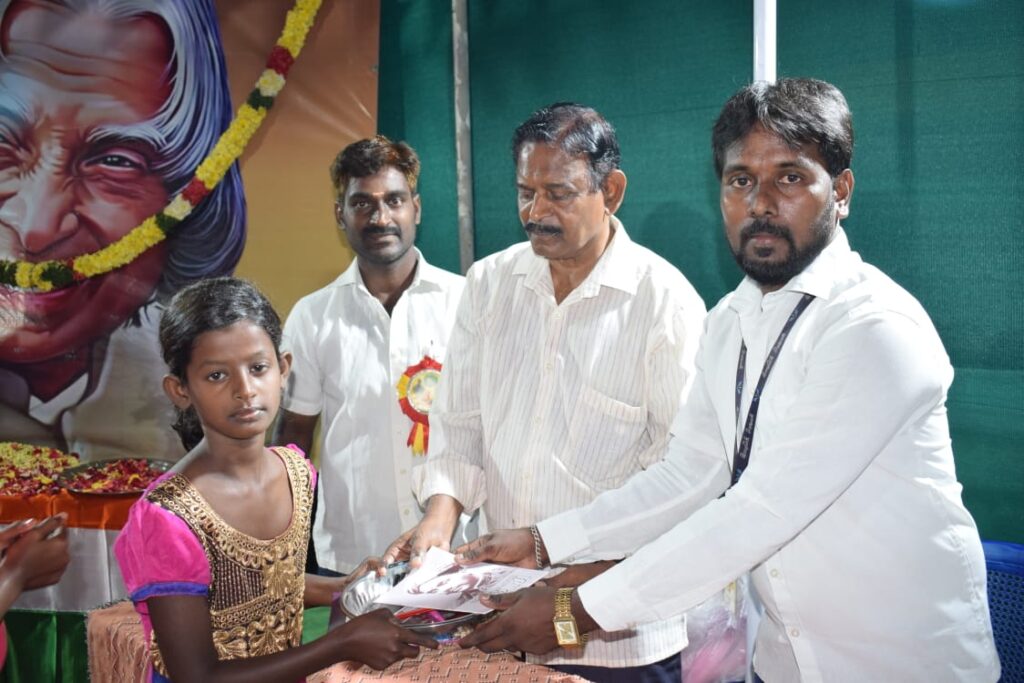 Since 2015, various teams have been formed in 12 districts to engage youth in social work. At first, they started by serving HIV-affected children in an orphanage near Andhra Pradesh. In 2016, he received a call from APJMJ Sheik Saleem, the Founder of AKIF and the Grand Nephew of APJ Abdul Kalam. He appreciated John for his service and said to continue doing social service. John also received an award from Sheik Saleem.
Vidhayin Sirugugal planted more than 70,000 saplings as well as seeds. During the Pandemic, they have also provided grocery kits for more than 6000 members, and more than 8000 food packets have been issued to needy people all over Tamil Nadu with safety measures. They concentrated more on small villages and slum areas. He says that they celebrated the 75th Independence Day with the village people near Maraimalai Nagar, where the village has only about 25 families who have been struggling to meet their daily needs. They also provided toilet and water facilities for schools. They also conduct various programs in schools to showcase the talents of students and encourage them by providing awards and certificates.
Vidhayin Siragugal has been working tirelessly to provide electricity to small villages which are struggling without electricity. As of now, they themselves raised funds and provided solar panels for each house. He says that the process was delayed as of now because the funds were inadequate. He says, "Each and everyone in this organization is the reason for its success. We do everything as a team and everyone in our organization should be recognized. "
According to the words of Dr. APJ Abdul Kalam, "In the life of someone who is suffering, if you make any change and rescue him from suffering, the benefit of being born as a human being will come to you and God will always bless you." Each and every one of us should be involved in community based work.
Pride of Humanity being an initiative to acknowledge humanitarian workers, your contribution towards the wellbeing of society was nothing less than a moment of appreciation. We hope nothing but the best for your future endeavors and hope that this award stands as a stepping stone for you to continue in this path of kindness and giving and always lead as a humanitarian worker. Once again congratulations! We feel proud of your service towards society!
 "We rise by lifting others"
                                                      -Robert Ingersoll