Homemakers Radhika Tapadia and Sangeeta Baldwa from Sedam, Karnataka first met about 15 years ago. The two women got introduced in a dance rehearsal for a festival organised by their own community people.
Fortunately, soon they turned out to be like-minded ladies in which they wanted to do something in common. That's when they decided to start gardening and work for it productively, making better use of Radhika ancestral land in Sedam. "In 2008, we began getting concerned about the food that was available in the market. We wanted fresh fruits and vegetables for our family and hence started growing them ourselves on that piece of land. The two of us were also really fond of roses and planted a few saplings," recalls Sangeeta.
Those rose saplings they planted bloomed over the years just like their friendship. Taking a look on these organic roses and flowers, the women soon joined their hands to start their proffesion in manufacturing value added products like gulkand, rose water, and rose-preserves free from chemicals and preservatives.
They started out by growing vegetables like spinach, fenugreek, lady finger, bitter gourd while also planting fruit trees like sapota, mangoes, Indian blackberry, and custard apple among others.
"But when it came to roses, we planted a few saplings and with cuttings, we would keep propagating the beautiful flower. We often used the rose petals at home for pujas but after a point, there were so many roses that we didn't know what to do with them," says Sangeeta.
The business had a good reach and provided a good revenue as they expected. This led them to start their own enterprise in 2012, under the name Gulaboo.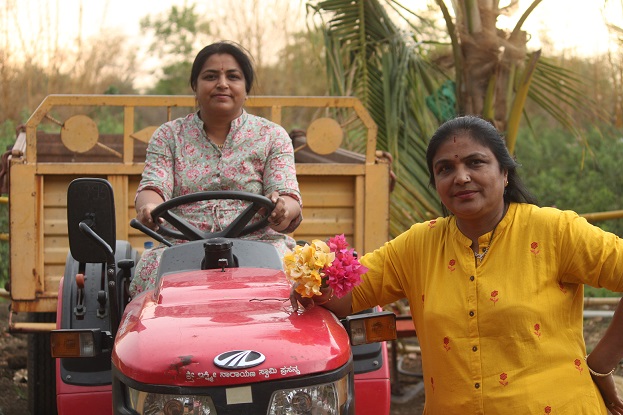 A report from YourStory states that these entrepreneurs sell over 11,000 units of their products in a year and earn anywhere between Rs 10 to 12 lakh annually for their business operations under Gulaboo. What is so exciting is that the homemakers also get orders from countries like Australia and Canada where their gulkand, dried rose petals, and rosebuds are popular.
Organic products are grown under a system of agriculture without the use of chemical fertilizers and pesticides with an environmentally and socially responsible approach. This is a method of farming that works at grass root level preserving the reproductive and regenerative capacity of the soil, good plant nutrition, and sound soil management, produces nutritious food rich in vitality which has resistance to diseases.
India is bestowed with lot of potential to produce all varieties of organic products due to its various agro climatic regions. In several parts of the country, the inherited tradition of organic farming is an added advantage. This holds promise for the organic producers to tap the market which is growing steadily in the domestic and export market.
As per the available statistics, India's rank in terms of World's Organic Agricultural land was 9th and in terms of total number of producers was 1st as per 2018 data.
There are several other homemakers-cum-small time entrepreneurs across the country who resell Gulaboo's products. Radhika and Sangeetha are a true inspiration to many small scale business owners. "We also sell about 2,000 kg of organic sapota in a year. We are just happy that we are providing safe and chemical-free food for people to eat," smiles Sangeeta.