"Reusable soft cloth pads made with banana fibre"
A waste-free, cyclical economy is becoming popular around the world. That is, after the lifespan of one material, they are used as raw material for the next cycle of production. The recycling of such products greatly reduces the environmental impact. As well as contributing to the protection of the environment, several eco-friendly products are being introduced in the market.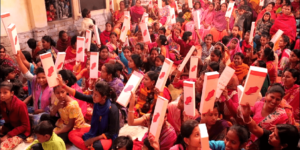 "In that sense, reusable cloth pads have become a viable alternative to sanitary pads, which are becoming the biggest threat to the environment."
Sanitary napkins are a boon for women during menstruation. But these nappies, which are soothing to women, have become the biggest threat to the environment.
Sanitary Napkins The only solution to avoid harm to the environment is cloth napkins, says Anju Beast, also known as 'Pad Woman of India'. He is the co-director of Amritanandamay's project Amrita SeRVe .
Fear Beast has been promoting the use of reusable cloth napkins. The non-profit operates intending to protect the environment, providing sanitary pads at affordable prices and providing employment to rural women.
"Millions of women in India use sanitary pads. Thus the sanitary pad waste is dumped in heaps on the lands. If these are burned, harmful chemicals can mix with the air and cause danger. There is no point in burying them in the soil. Because these take 500 to 800 years to decompose. Is this the property we will leave to our next generation? " As questioned by the Fear Beast."
Product comfort and Recognition:
Saukhyam Reusable Pads manufactures reusable cloth napkins. This product is co-created by Anju Beast. The Hyderabad National Rural Development Corporation ( NRDC) has recognized the product as a 'most innovative product'. This type of bat was praised at the 2018 UN Climate Change Seminars in Poland.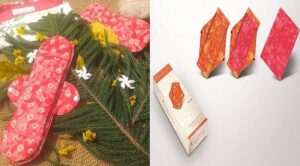 Comfort pads – Sanitary pads – Comparison:
'Healing pads are made with banana fibre for the first time in the world'. This ingredient is available from agricultural waste. It is naturally absorbent. It is capable of absorbing liquids that are six times heavier than its weight. This ingredient is easily available at low prices as banana production is high in India.
But cellulose fibre is used for absorption in disposable pads. Numerous trees need to be cut down to get this fibre. The cellulose fibre used to make disposable pads in India is fully imported.
Cloth pad is suitable for reuse:
"Chemicals may be mixed in disposable pads after use. Thus the health of women is affected. The cellulose fibre used for absorption is bleached to a white colour. It is harmful to the skin. It is dangerous to continue to use these, "said Dr Sirisha of Amrita Hospital."
Each of the Comfortable Reusable Pads can be used for up to three years. A pocket containing five bats costs only 330 rupees. Safe cloth pads are much cheaper as a woman has to spend an average of 50-100 rupees a month for regular sanitary pads.
Women's use of reusable cloth pads avoids health problems and reduces costs.
2,00,000 women in India and internationally have switched to reusable comfort pad use. This significantly reduces the amount of air pollution and non-compostable waste caused by the disposal of disposable sanitary pads.