Your November to-read list of books is here.
1. OUR COUNTRY FRIENDS: A NOVEL – GARY SHTEYNGART
Gary Shteyngart (Super Sad True Love Story) narrates the story of a group of friends who go to a house in the country to wait out the lockdown restrictions in what could be the first great novel to confront the current pandemic. The crew—writers, techies, friends, adversaries, and a movie star—stumbles through good and terrible times for the next six months, raising concerns about the depth of friendship, the limits of chosen family, and what happens when we're all locked inside.
2. SILENT CITIES: PORTRAITS OF A PANDEMIC: 15 CITIES ACROSS THE WORLD – JEFFREY H. LORIA AND JULIE LORIA
Some of the world's busiest sites—from the Great Wall to the Colosseum—were oddly deserted during the recent pandemic, which may be difficult to recall now. It was unexpected, though frequently striking, to see these iconic places in fresh ways. Jeffrey H. Loria and Julie Loria recount the appearance of 15 global cities during their lockdowns in this new book, reminding us of the beauty that may be discovered in silence and the human race's tenacity.
3. FIVE TUESDAYS IN WINTER – LILY KING
King returns to the page with a collection of short stories that continue to prove her prowess in all things love and human connection, following up on last year's Writers & Lovers.
4. LOVE IN THE BIG CITY – SANG YOUNG PARK
Sang Young Park is one of South Korea's bestselling young authors, and his novel about a student struggling with life — and loneliness — in Seoul is being translated into English for the first time.
5. THE UNDERNEATH– MELODY FLYNN, TWO DOLLAR RADIO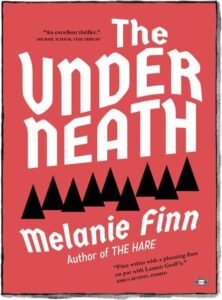 This literary thriller follows a former journalist dealing with parenthood troubles who hires an isolated cabin for the summer and discovers something horrific that happened to the previous owners in the attic crawlspace.